Mattress Maintenance
Mattress Maintenance:

Note: This warranty ONLY applies to the original purchaser and address stated on the delivery order.This warranty is ONLY valid for purchases made from Sommeil Terre and its authorised dealers in Singapore.
In the event there is a change in address, the original purchaser MUST update their new address with Sommeil Terre via phone or email in order to continue with the warranty coverage. For the warranty to be valid, movement and delivery of Sommeil Terre's brand of mattresses MUST be delivered by Sommeil Terre's personnel (eg. Moving between houses).
It is advisable to rotate the mattress every 3 months after purchase. This helps in maintaining the balance between the comfort layer and spring foundation, which prevents the unevenness on the surface of the mattress.
It is recommended to change your mattress after 5 years as there may be changes in lifestyle or sleeping patterns, requiring different type of support from the mattress.
It is recommended to do mattress cleaning once every 6 months as dust and dead cells are left on the mattress when we sleep and these are not visible to the human eyes.
It is recommended to use a mattress protector on the mattress to prevent stains from penetrating directly into the inner layer of the mattress.
It is NOT advisable to sit on the edge of the mattress for a long period of time as it will cause the foam edge support to sag or become uneven.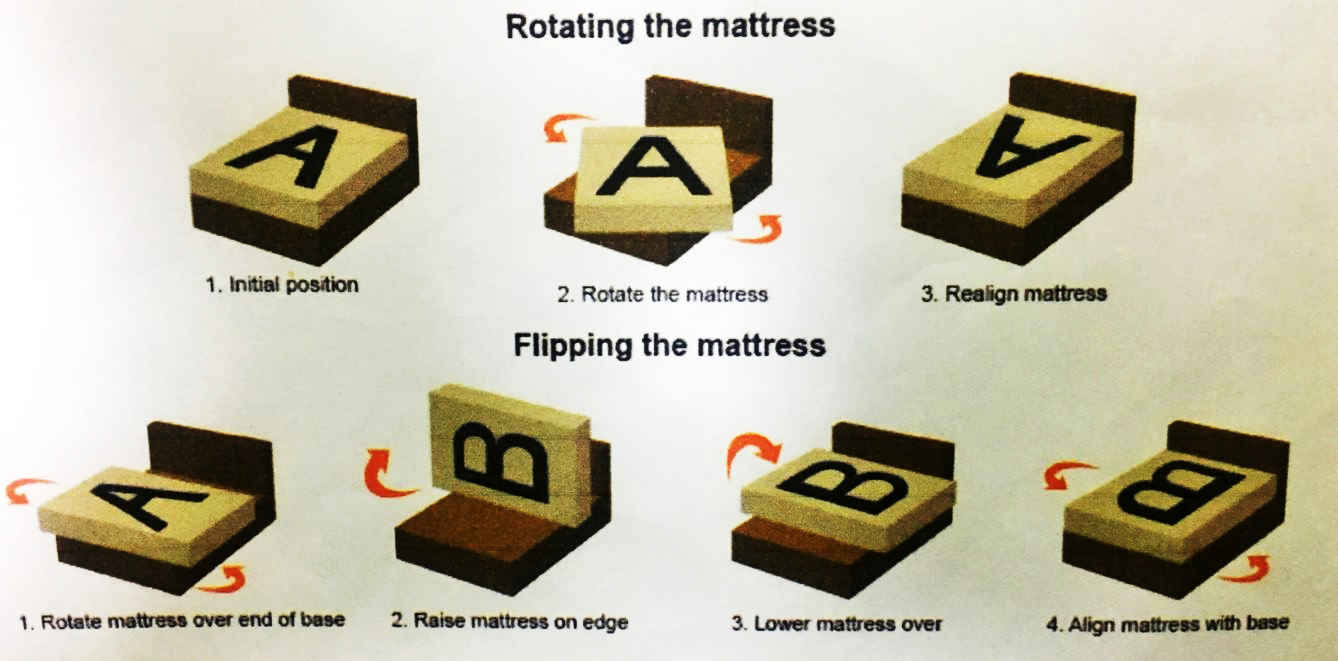 Warranty DOES NOT COVER the following:
Damage caused by wear and tear or improper use (abuse).
Changes in personal preference such as softness / firmness or comfort of the mattress. These are subjective to the individual and is not considered a manufacturing defect.
Normal body impressions on the surface of the mattress (less than 2 inches).
Handles and piping of the mattress as they are more for decorative purpose and cannot be used to pull or lift the mattress. It cannot support the weight of the mattress.
Any distortion of the mattress or border wire due to movement by unauthorised personnel or improper handling.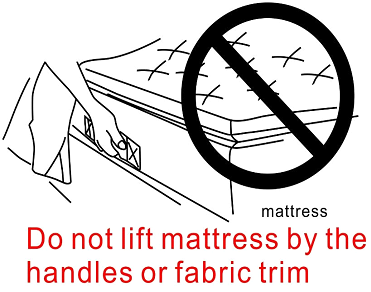 Products sold as clearance/display set with pre-existing condition.
New bed smell / odour.
Structural damage due to inappropriate placement of mattress or unfitting foundation eg. Mismatched sizes, improper bedframe, bed slat, metal railings etc.
Removal of law tag from the mattress.
Soiled / burnt / abused / improperly cared mattress or bedframe.
Mattress fabric (including stains, burn marks, pilling and loose covers).
Mattress size, both in length and width that is within 2cm tolerance level.
Bending and jumping on the mattress.
Dust mites / bed bugs or damages /defects as a result of fire or flood or other Acts of God.
Mattress or bedframe not purchased from Sommeil Terre's list of authorised dealers.
Free of charge or complimentary products.
Products sold for commercial use.
Transportation, inspection, cost of disposal or removal of products.
Mattress cleaning services.
Poor environmental conditions which may cause fabric to be mouldy etc.
Products shipped out of Singapore.
Issues relating to heat.
Minor manufacturing anomalies that does not impact the quality of the mattress (eg. Mis-stitching on quilting).
Visco elastic memory foam are temperature sensitive, there may be a variation in feel depending on the environmental temperature. This is not a manufacturing fault.
Terms and Conditions for Warranty Coverage:
Warranty only covers spring manufacture defects.
In the event the mattress is still covered by warranty, do note that the replacement (if any) is chargeable based on the number of years the mattress has been used plus transportation charges.
Repair works for defects and damages that are not classified under manufacturer's defects or out of the warranty period of the mattress / bedframe are chargeable.
A top-up fee is required for any replacement of mattress / bedframe at the point of service. This is based on depreciation over the warranty period and its purchased price.
Sommeil Terre reserves the right to use other equivalent material / fabric or replace with other products of similar value (ie. after deducting the number of years used of existing mattress) for the replacement.
Transportation charges are incurred for any replacement or servicing done.
Warranty is voided if mattress / bedframe is found abused, burnt, damaged, stained or misused against the normal usage or due to excessive wear and tear. Under such circumstances, there will be no repair nor replacement.
Warranty is also voided if mattress / bedframe is found to have been purchased from unauthorised dealers, law tag or brand label removed or defaced.
Sommeil Terre reserves the right to amend or update the warranty coverage and conditions without prior notice.
For your Safety   
Do NOT smoke in bed nor place the product near open flames or expose it to fire.
Do NOT place any gadgets or devices on the mattress while charging eg. phones, Ipad, tablets, power banks etc.
The product is not flame proof nor fire proof. It can ignite and burn if exposed to open flames or fire.
When ignited, some of the bedding materials can burn rapidly and emit hazardous gases.
Updated: 30 Dec 2018